Fit, healthy and relaxed
Hirschen Wellness
POOL
Our wellness area includes the largest whirlpool in the valley with counter-current swimming, bubble massage, and a grand view of the seven Churfirsten peaks. Enjoy a perfect ending for your ski day, your hike, or a demanding seminar!
SAUNA
Turkish or Finnish is not a question of language in our wellness area, but of preferences and health conditions.
Both saunas can be used individually and afterwards there are many possibilities to relax – for instance on the sunny balcony, gazing into the marvelous Toggenburg landscape.
COSMETICS & MASSAGE
Let Elisabeth Oberle and Marlis Segat pamper your skin with «Chris Farell Cosmetics» or relax with a soothing massage. Please be sure to reserve your massages and cosmetic treatments early.
FITNESS
No need to let go of good habits just because you're on vacation. Our small but excellently equipped gym room lets you keep up your fitness level with cross, step and bike trainers.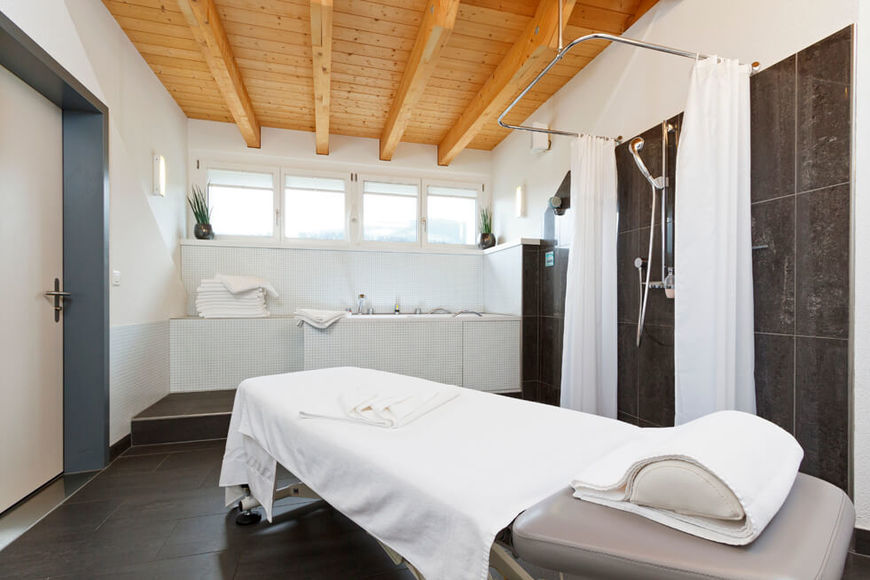 Massages
A classic full body massage, a fragrant aroma massage or a massage with singing bowls and tuning fork? At the Hotel Hirschen you will find a variety of possibilities:
Cosmetics
Let us care for your beauty with a facial treatment, a wax treatment, a manicure, or pedicure. We use products by «Chris Farrell Cosmetics» exclusively.
Sound wellness
A very special type of wellness treatment to be found only here, in the Toggenburg region. It offers relaxing and soothing massages with sounds, water, or wood:
FIND OUT MORE​​​​​​​
Hirschen Day Spa
External guests as well are welcome to enjoy our wellness area and all it has to offer!
---
Admission
Admission to the wellness area is free of charge for our hotel guests.
External guests pay CHF 30.- incl. bath towel for single admission, CHF 250.- for a 10-entries-subscription or CHF 400.- for a half-year subscription. A bathrobe may be rented at the reception desk for CHF 7.-.
Opening and reservation hours
The wellness area is open Monday through Friday from 6.30 am to 9.30 pm.
Massages, baths, and treatments may be reserved Monday through Sunday between 8.00 am and 8.00 pm.
Cosmetic treatments may be booked on Saturday and Sunday between 8.00 am and 8.00 pm.
Please book your appointment early by phone +41 71 998 54 54 or by email at info(at)hirschen-wildhaus(dot)ch